Posted by Lilly in HNT | 17 Comments
Frosted Cockcake
Two basic facts:
1. I don't swallow. I don't want cum in my mouth, and I won't lick it all up either. I have a hair-trigger gag reflex and thick cum just grosses me out. I don't like seeing photos of it all dripping out of a chicks mouth, either. I can't help it.
2. Simple powdered-sugar icing looks remarkably like cum.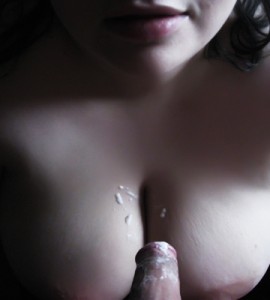 So when husband and I were trying out Burger King's new Funnel Cake Sticks (pretty yum, btw) our minds were in the gutter as I was cleaning off warm gooey icing from my fingers. I just looked at him and said "Save the rest of that icing for later. You, me, this icing and the camera have a date later" and boy you shoulda seen his eyes light up.
And it ended up being great fun for him to take all these photos. His arousal during was equal parts the visual and of course the feeling of my lips and tongue cleaning up all the icing I kept dribbling all over. I can look at these photos without issue, because *I know* it's icing and not cum. He knows it, too, when he sees the photos but it doesn't fail to arouse him utterly and so quickly. To him, it's almost as good as if it were photos of the real thing.