Posted by Lilly in real life | 5 Comments
Would you just tie me up and fuck me, already?
One of the things that I did during my NYC trip was attend a "sensual rope bondage" class given by Twisted Monk, purveyor of fine bondage ropes. My prior experience with rope was pretty damn inconsequential. Basically I have reviewed two mass-market bondage ropes (which, now that I have been spoiled, I don't want to use) and two books on how to tie people up. At that time I was researching it all so that it could be used on me by my then-dominant or by me on a potential submissive guy I was getting to know. Obviously, neither panned out in the end and my items have languished in my kinky bag.
But even with those two books, I wouldn't have been able to do much. For one, my spatial imagination isn't very good – trying to figure out the knots and ties via words and pictures wasn't always easy. So I went looking for instructional videos online and found the series that Monk has up on his site. Huge huge learning difference. Recently when Tess and Diva announced that they would be  bringing Monk to NY for a class, I signed up right away – and I was not disappointed!
Shibari is what I had been previously learning about, but I didn't quite "get it". It seemed complicated and unnecessary to me. Time consuming and more about precision and patience than anything else. But Monk's class was different – catering right to my train of thought (I later found out he's a fellow ADDer so it's not damn wonder I love his teaching methods and outlook).  From his blog:
"Sensual Rope Bondage for the Not So Vanilla"

Rope, everybody is doing it.

So what is up with all this rope bondage stuff anyways? Seems like everywhere you look online these days folks are tying each other up and having sex. Maybe you have tried in the past, ya know silk ties to the bed posts perhaps, and now you want to know more?

Monk, founder of Twistedmonk.com the oldest and most trusted name in bondage rope, is hosting a very rare class and Q&A session on erotic rope bondage. More than your run of the mill "rope 101" class with a bunch of frustrating knots you will never remember, this class is all about the providing you with the building blocks as well as how to "think" in rope to expand your play options and confidently bring rope bondage into your bedroom.

Topics Include:
Why Rope? Or "So, do you get a lot of chicks with this rope bondage thing?"
Resources
Rope Safety
Single and double column ties and variations
Chest Harnesses with variations
Boy and girl 'bits" bondage
Incorporating Rope into your play

If you are just starting to explore bondage or perhaps just very curious, this small hands on class is for you.
The best thing about this class is Monk himself. He is a fabulous instructor with this gift of making every bit of his class highly entertaining and truly educational all at once. I really can't say enough good things about this guy. Very personable and charming, funny and intelligent (really now, what instructor is going to just launch into a bad impersonation of Mickey Mouse Doing Bondage? It was painfully funny – and by painfully funny I mean Monk, you might wanna practice your Kermit impression, it might work for ya better). With every step of the way he'd stop and let the participants try out what he just showed, on their partners, while he walked around to guide and observe. I wish more instructors had his approach and personality. After the class portion was over we went to the main area of Fontana's where he had his suspension rigging set up, and there was a casual gathering while we watched him do a few different suspensions (photo at the end). It really felt like you were being taught by a friend, rather than the kinky 'net-celeb that he is. I think we all hid our fan-girl moments quite well ;)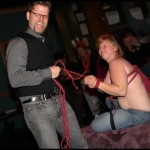 Also during this class I finally got to see and feel his famous rope, up close and personal (no, that wasn't a euphemism you pervs) (and by personal I mean it was wrapped around my tits). A few of you commented on my last HNT that the chest harness looked painful. There was only one uncomfortable spot and that was because the rope wasn't laying flat. If this kind of ropework is done right then its not going to be painful – and I have an auto-immune disorder that affects my perception of pain so if I can say it's not painful, it's really and truly not. Plus his rope is super high quality. I've always wanted to have some of his rope, and this just solidified it. His rope is very high quality and can be bought in pretty colors. It wasn't at all like I imagined hemp rope would be, I didn't even notice it on my skin. The small portion of bare skin that the chest harness rope pressed against was left with this really pretty indentations from the rope. Another cool thing about his rope is the way the ends are finished. It's called "whipped" and appears to be pretty much indestructible.  He had offered up a special limited-edition kit to class participants but I very sadly couldn't afford it that weekend. I would want it even though I currently have no partner to use it with, it's just that good. Even though I have little experience with rope, I could tell that using this hemp rope lent itself better to secure ties than the cotton/nylon ropes I have reviewed. For those with sensitive skin he also sells silk and bamboo rope, in addition to supreme quality hemp ropes. I'd also be very interested in trying the softer "exotic" ropes, but being a girly-girl I'd likely end up choosing the regular hemp so that I can have it in pretty colors.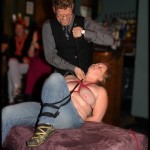 The ties he taught us are very simple and versatile. No need for intricate spider-web designs here. As he put it – you don't want your bottom thinking "Would you just tie me up and fuck me, already?" so you don't want to get involved in intricate designs and having to remember 30 different knots. Some of the things he taught us were in the "building block" category: how to change things up in the middle if you suddenly realize you don't have enough rope for your intended maneuver, how to use the rope like a leash for tossing around your unruly submissive or how to put said unruly submissive into a better (more restrictive) tie when they wiggle out, and so on. Then of course were the fun bits of using the rope in positions and places to create the most tortuous pleasure. The main tie that the class did as partners involved the chest harness. It was at this time that I realized that a properly done chest harness was like an obscene bra for me.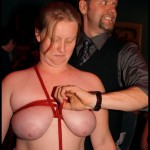 As I watched him run the rope this way and that in rapid succession over his demo bottom…..I "got it". The control he had at every moment would be intoxicating to experience. Even if the sexy playtime isn't a big bad D/s scene, the rope provides just enough kinky control/loss of control to be right up my alley.
When the announcement for the special class was made, I was informed that he hasn't taught a class in quite some time and that this was a rare treat. I hope he changes his mind because seriously you guys, if you're at all into rope bondage or think you might like it, I cannot endorse this guy enough. If I ever hear about any classes I'll be spreading the word.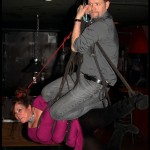 Also, Monk, if you ever happen to read this – this kit is really awesome for plus size ladies such as myself but would be even more awesome if you also offered it in 6mm rope :)
*All photos are property of Stacie Joy, the wonderful NYC-based kink & fetish photographer, who graciously let me re-post her work her. Thank you Stacie Joy!!*