Posted by Lilly in real life, Reviews, Websites | 5 Comments
Proper Lessons in Kink
One of the *very amazing* people I met in NYC recently is Princess Kali. My first impression of her was how genuinely nice and sweet she is and how you just feel at ease around her. Beneath that sweetness is an air of poise and control that commands respect quietly.
Wait no, scratch that.
That was my second impression.
My first impression was staring discretely at her lithe ballerina-like body as she grabbed her breakfast in the hotel lounge, wearing this tiny stretchy little black dress with no bra and these big menacing black punk boots. Duh yes I wondered if she was wearing panties. *grins* Sadly she was, hot pink. Of course, by the time I realized that, I also found out that she is a pro Domme and so I tried my very very best to be discrete and respectful in my perving (moreso than usual, that is. I'm nothing if not a discrete and respectful perv). In other words folks, she's hot – just rolled out of bed with no makeup and no effort. When she's dressed to the nines for her sessions and such? It makes me reconsider a few things ;)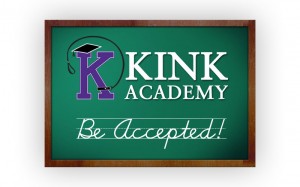 In addition to her regular site, Kali is the headmistress and founder of The Kink Academy. It's not a free site but it's really worth the admission price ($9.95 a month) because of the vast amount of knowledge and lessons shared. It's better than a book because many lessons are in video form – I don't know about you but watching someone show me how to do things is easier for me than just reading directions.
The topics that are covered are in a vast range of kink and experience level. The mildly kinky can get information on corsets (how to lace, how to buy, etc), floggers (how to, the different types of floggers and the sensations they bring), anal play (for men and women), condoms, lubes and sextoys and so on. Those wishing to extend their BDSM knowledge can learn more about fire play, how to use a dragon tail whip, pet play, age play, liquid latex, service and protocols, and a lot more. The sheer volume of information and range of topics will appeal to a large number of people. There's a number of topics that I know I could have used a few years ago when I started out as a Top (knowing what I know now I can't bring myself to say that I was a Domme). The information on this site seems to be much more realistic and usable than the information I gleaned from books such as "The Mistress Manual" or "The Sexually Dominant Woman" – I found those and similar books to be largely ridiculous to me and found myself thinking "Oh no WAY could I say that!!". The information that Kink Academy gives you can be specific or generic enough for you to build from, all while helping you gain confidence via knowledge that you may currently lack via experience.
Going beyond one-sided information, there is a forum where you can ask a specific question for one of the instructors to answer or interact with other members. Princess Kali has done an amazing job with this site and I hope that it becomes as big of a success as it deserves to be.
In the gift bags at the NYC Sex Blogger Calendar Party, we were given a voucher for a free month subscription to the site – it expires December 1st  though (meaning you have to redeem it by then, not that the free month runs out by then) so I don't need to use it – if any of you would like it, please leave a comment here. I have only this one code so the first person interested in it will get it.