One of the things that I did during my NYC weekend was to attend a Sensual Rope Bondage class taught by Twisted Monk. I'll be talking more about him and the class next week but for now I thought I'd share the rope chest harness that was done on me. I had taken off my bra for this because I knew that snug rope over an underwire bra likely wouldn't feel too good. What resulted was an almost anime-like effect.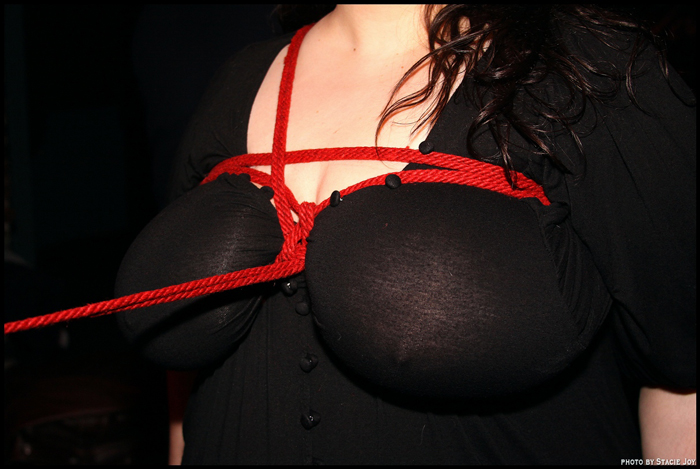 photo credit: Stacie Joy
This is the harness not quite done yet, but hey there was a leash!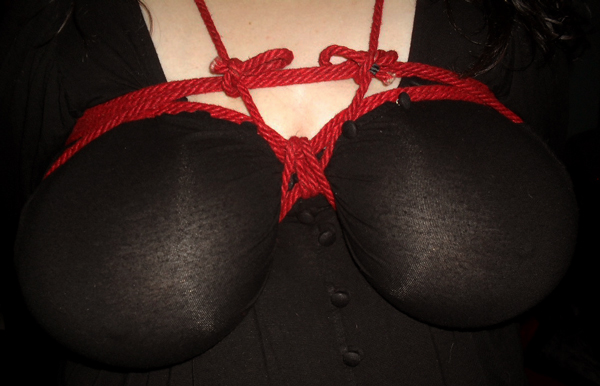 Photo by BadBadGirl
And this is the finished (mostly) harness that offers more "lift". A second, shorter piece of rope could be added on to this to keep the leash effect, or to add even more lift/constriction to my breasts. BBG got a little help at the end with this, finishing off the end pieces into little half-bows and basically making me into a gift-wrapped set of tits *grins*
We had talked about trying out the chest harnesses on our own back at the hotel, sans shirts for better photos, but never got around to it. Hopefully in the somewhat-near future I'll get to try this out again with the good rope and this time I'll be sure to just throw shyness to the wind and whip the tits out right then and there. For now though I lack both the good rope and the rope-interested partner.