Posted by Lilly in HNT | 26 Comments
HNT: How to Sluttify a Bra
Listen, B and C cup girls get all the good bras. And that really pisses me off. Why can't we have D or DD bras that look HOT but are also supportive?? The ratio is sadly a landslide in favor of smaller tits. It's one thing I look forward to when I lose weight.
So when I see a possibly-hot bra in my size, I check to see if it can be altered. By altered I mean cutting out the inside lining or padding to reveal just the sheer mesh/lace front. This is how we sluttify, folks.
I've sluttified a number of bras that have graced my HNT:
But this isn't about those bras. It's about the latest bra. Last week's Bordello Bra didn't really need any help, but my first impulse was to remove the padding. Sadly, that couldn't happen; but it's ok – it was slutty anyways.  The other sex bra that I purchased that day was alterable. I removed the padding to leave behind black mesh with red embroidered design.
Be sure to click for a surprise!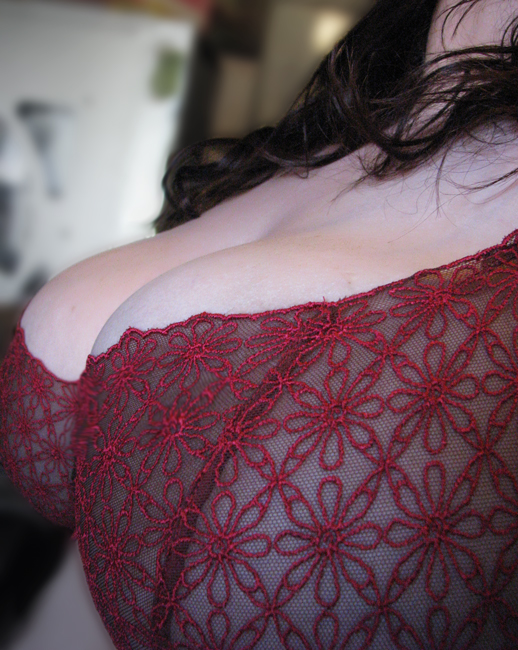 I bet you're wondering whose tits are in the click through, aren't ya.
Yeah….I've been keepin secrets from you. That's Shawn, a new friend. She sent me a message one day last month on Okcupid, somehow got it in her head after reading my profile that I'm made of awesome. But I emailed her back anyways, despite her obvious misconceptions about me, because her email was in the top 5 most compelling "I need to respond to this!" messages I've received on OKC. We went out, had a great time shopping and having dinner, and continue to chat online and such. Hopefully our schedules mesh up here soon so we can hang out again.
Oh, one more thing about Shawn. She's a great kisser, too. The Queen of sneak-attack kisses, but great nonetheless.