Posted by Lilly in HNT, Uncategorized | 33 Comments
HNT: Demure Peek
I'm not wearing any pants. You can likely surmise that.
I'm not wearing any panties. But that part I'm not showing.
I'm sure my nipples were hard. But I'm only showing a glimpse of cleavage.
Does the flush of my cheeks tell you anything?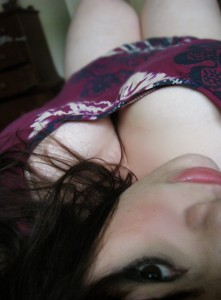 With my hips and ass elevated from my Liberator Wedge, doing unmentionable things to myself with my toys….well I'd guess that that's a good view to have from the doorway that's concealed by my bent knees.
{Yeah. I'm early. I know. I dont fuckin care, so I'm an idiot who's so busy she doesn't quite know what day it is. Deal with it, lol}