Posted by Lilly in HNT, Old Stuff, Photography | 36 Comments
HNT: Office Flashing
As you can see, I still am lacking an erotic muse (ahem hint hint). There are no good-quality HNT pics this week. I haven't even posted since Friday. I just can't write. I have a wisp of an idea or two but the words won't come.
I've filled my time up with attempting to muddle through CSS code, I'm working on a new theme for the blog. I can't create one from scratch so I picked a "good enough" one and then made some Photoshop magic – it looks nothing like the original, graphics-wise. The CSS tweaking is font and color and so on. I screwed up a bit earlier, one damn "}" messed up the whole deal for awhile until Coy Pink's hubby Alec found it. I always did suck at programming.
Another thing I've filled my time with is getting the ToySwap Network up and running. This is something Sinclair Sexsmith and I created over at Ning.com, which allows you to create your own group/network that can be public or totally private and hidden (the route we went) and it works a lot like Facebook. So far things are going well and it's my little pet project. Ever since the ordeal a few weeks ago at Swap-Bot, we've been cautious but not given up and now the project is seeing the light of day! Our peers are joining and soon we'll be happily swapping away our unwanted review items.
So anyways, on to my half-assed HNT. Or should I say, half-boobed.
Most of my sweaters/shirts/tops are V-neck. Yeah I like to show a lil cleavage, but it's also a more flattering neckline for me and my size of tits. Some days though….well, the office gets an eyeful if I am not careful with the combo of what top and what bra I wear.
Monday was the prime example. A sweater that's too big and baggy on me, and my pink bra.
So I twittered a pic of my cleavage, and then I was privately dared to twitter a more risque office pic. You guys know I don't like to turn down a dare so long as it's feasible! Most of you know how busy this office is and how frequently people walk by my desk. Thank fuck there's no one accidentally caught in the corner of this photo!!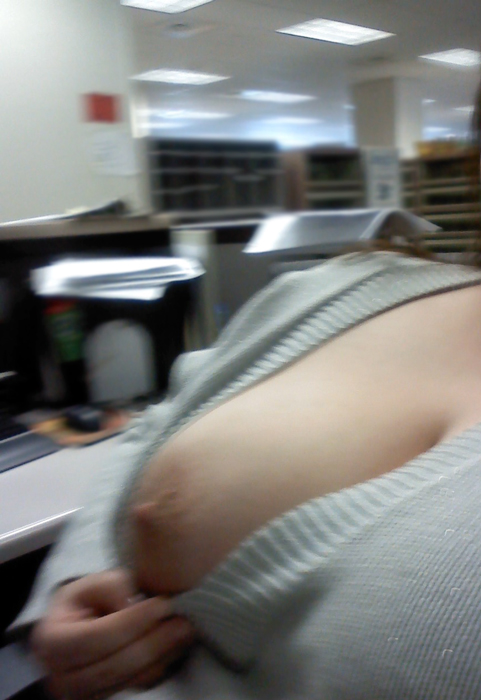 {click for another flashing – that elevator moves quick when you only are travelling 3 floors!!}