Posted by Lilly in HNT | 22 Comments
HNT: Sunday Morning Mess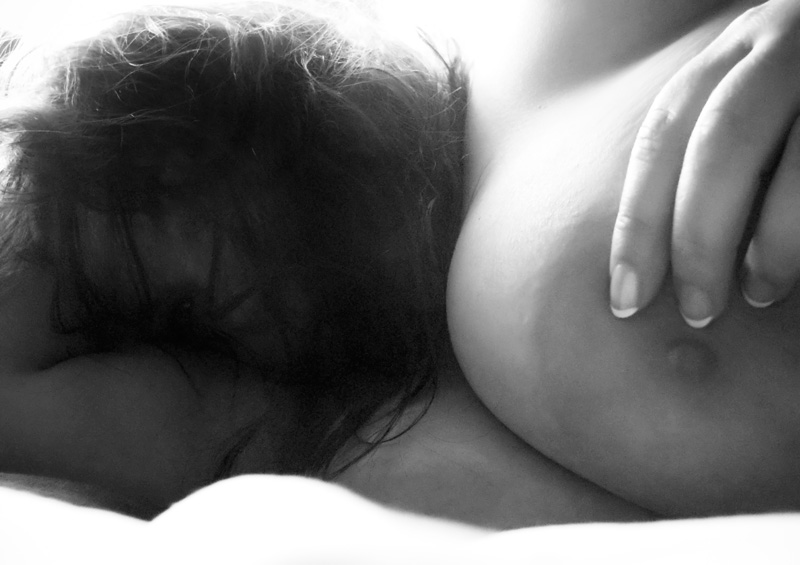 {click for a color version}
I am the sort who moves around a lot in my sleep – tossing, turning. By morning my hair can sometimes be a mess. Moreso on the weekends because I'll wash it Saturday morning or Friday night and the resulting Sunday mess sticks out in 45 directions. Not sure how that's possible for someone with such fine hair, but so be it.
Lookit my pretty nails! I got a manicure for the first time ever on Saturday. It's funny, I'm so girly in some areas but my nails were always a hideous mess. I will not leave the house without makeup on to some degree – just won't. I won't go out of the house in my workout pants – in fact I don't even own sweats. But a manicure or pedicure? I always said "I'm not that type".
Apparently, I'm not quite yet. I like the look of them even if the lady didn't do a perfect job (my slight-OCD-tendencies for symmetry/order cringe that the tips aren't all identical). I feel more feminine, more…."adult". But I'm not a careful girl, I have not yet grown into my paws, so to speak. First thing Monday morning I notice that -5-, 50%, have chips in the white tips. Most are very minor, I can let them go and just be sure to protect with clear polish when I'm home. But one…well, one was pretty bad. I fixed it in a rather unorthodox way that I just don't think I should divulge. Suffice to say, millions of uber-femmes around the world simultaneously gasped at 11:30am EST on Monday morning, and they don't quite know why.
(Edit: Despite my now-religious upkeep with the frenched-white tips, and it being only Wednesday night with chips popping up daily, I've deduced that perhaps the very nice lady at the nice salon gave me a crappy polish job. Perhaps it's not all my fault. We'll see.)