Posted by Lilly in HNT | 27 Comments
HNT: The fixation continues…
Earlier this week I confessed all about my oral fixations….I say plural because I have many. These fixations manifest in my love and need for kissing; sucking a hard cock; devouring the curves and peaks of a woman's body; and my own little habits when I'm alone such as the lollipops and that thing I do subconsciously with rubbing my thumb over my lower lip.
It's all about what I can do with my mouth. And lips. And tongue.

The need starts before anything else, before I even meet the person. When they arouse me, my mind first and foremost craves a kiss. As flirtation and seduction continue, even though I might crave a whole host of sexual things, when my desire is at its deepest my need to make-out with that person is nearly overwhelming. Even in dreams this is evident. For some reason my sexual dreams never include actual penetration. I rarely remember what anyone's hands were doing or what they felt like. It's just the kissing.
I had another photo from the options for that post that I thought was too good not to share.
Can I just mention the utter satisfaction and glee I felt when I casually showed my partner these photos and he froze – jaw dropped, visibly squirming in arousal. Heh. I'm a bit evil, I know. He was still sick at the time and could do little about it; he finally had to walk away – shaking his head and muttering with a grin "…that's just filthy….".  I didn't bother inquiring more about what exactly was so filthy.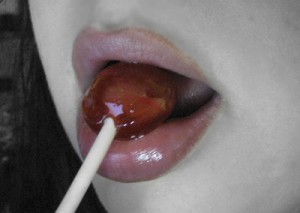 I think I need to always have one of these on hand for the times when someone's deliciously dirty blog post gets the better of me.
Upon seeing these photos with the lollipop, which are merely suggestive, R comes out with an idea to surpass it. We go right beyond suggestion and straight into the obvious.
One of the reasons this photo was picked as the "winner" out of the 3 good ones was not only composition but the angle. It's the view you men have when your lovely girl is working out her own oral needs on you. The runner-up photo will be posted to Tits for Troops next Tuesday. It's a bit over-the-top, as filthy as one can get with a glass dildo in their mouth, but I'm sure the men in uniform will appreciate it.