Posted by Lilly in Adult Products, Reviews | 1 Comment
Review: Japanese Bondage Rope

Japanese Bondage Rope |   Sex Toys |   More BDSM Items
Essentially, sextoy.com offers 2 different types of bondage rope. The Japanese Silk Love Rope, which has a shiny silky look and feel to it, and this rope which is cotton. I have found that the silky texture of the previous rope can make it a bit difficult on a beginner to tie a secure knot. Cotton offers better texture/friction for keeping knots secure and in place, without being scratchy like some hemp rope. Many people into rope bondage -like- the rough texture of hemp rope…..as someone who admittedly is ultra sensitive to texture and such, I find that hemp rope drives me to distraction. Too scratchy! Cotton solves that problem.
This rope is also thicker than the "standard" 6mm used by more experienced folks – it will require fewer passes for a comfortable and safe restraint, but the knots will be bulkier.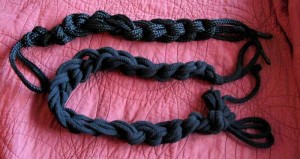 Top: Japanese Silk Love Rope, 16 ft length
Bottom: Japanese Bondage Rope, 32 ft length
This rope comes in a nice long length of 32 feet, which means you can do things such as a chest harness or other more intricate body ties. 16 feet is generally good for simple wrist or ankle restraints, or as an accent color / final pass on the more intricate bondage ties.
Better Bondage Rope Storage: I bet most of you are looking at the photo above and thinking….that doesn't look like 32 feet! And why is it braided? When I was trawling wonderhowto.com's 'sex education' section of videos looking for instructional videos on various restraints, I happened upon a video about some basics of rope bondage, which included rope storage – so I went hunting on YouTube for a specific how-to video just on the rope storage method. There is a special, easy way to "braid" it for storage. Much easier to transport/store a thick, stout braided hank of rope than a coiled mess which will likely tangle up. Once you watch the video and try it a few times, the technique goes very quickly even on 32 ft lengths. Better, undoing it from this is ridiculously easy – just pull and it comes apart! This method doesn't put kink or curl in the ropes I've done it on, either.
.
Link: No Tangle Rope Storage