Posted by Lilly in HNT | 18 Comments
Merry Half-Nekkid Christmas!
Technically this is my HNT, but there's a theme and I'm not exactly following it so I'm not being official about it all. The theme was to give "Christmas wishes" to 3 HNT bloggers but…..I feel that it's a game of cliques and circles, and some might feel left out. As it is, my presence in HNT is likely not appreciated by a few key "players".
Just about everyone I know in blogland/twitter has one major emotional hurdle right now. Well, you could say, who doesn't? Some of my wishes for my good friends, I shouldn't speak outloud in "public". I hope to find time today to personally email all that I care for and tell them privately my wish for them.
I'll be heading for "home" this afternoon…..it's weird to some that I call it home still, for I no longer live with my mom. But it's where I grew up and spent my first 30 years for the most part. I remember that everytime we went to my grandparents, my mom would always say we were "going home".  So on the road this afternoon, Christmas Eve with mom, gifting and installing her much hemmed-and-hawed-over new PC, Christmas Day dinner with my partner's parents, and then heading back here that evening. Dinner and festivities with my cousins and their demonspawen, errrr I mean children, on Saturday.
Merry Christmas to all and to all a good night!
What's behind that tree from last week? hmmm, perhaps a half naked girl?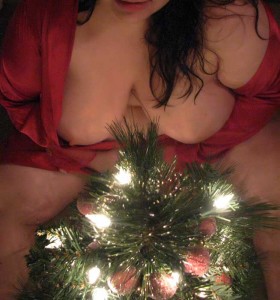 All tangled up in lights again. Pesky lights…