Posted by Lilly in HNT | 31 Comments
HNT: Boys Club
I'm quite a contradiction, you know. While my appearance is all femme, I tend to prefer to hang with the boys for the most part. It's somewhat rare to find a fellow femme who's as geeky as me, but I am finding the female friends I secretly longed for in my fellow sexbloggers. If the NYC trip taught me anything it's that I've really missed out in life not usually having the female camaraderie in the last decade.
Sometimes my attitudes towards sex are more "male". I'm a computer geek (as we've covered). I like cars – fast ones, expensive ones, tuner ones. My mouth and thought trains don't fit in with the "average female" I encounter in my real life. I have geekgasms over electronic toys and gadgets.
So this new series is going to show you both of my sides. This week: Boys Club, femmed up a bit, because really now – I'm no tomboy. Naked save for the borrowed dress shirt, a stiff drink on the rocks, and a lil bit of attitude.
………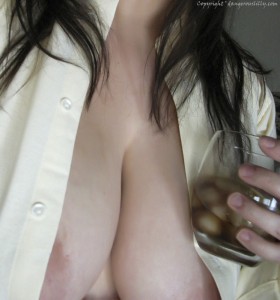 .
……………………………………………………………………….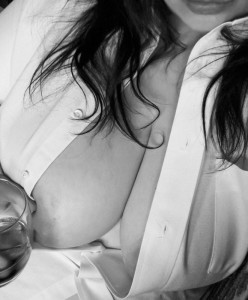 .
.
I'm off to bed, sexy people. Long long long day tomorrow, but I will visit you all and show some love Thursday evening.