I say "unofficial" because I started to get….disillusioned with the whole HNT "game". For it is really not a game, but yet, it is. So I'm not going over to Os and posting my announcement. While I think that HNT is -great- for finding bloggers that I didn't know about, there still is a small level of insincerity that is rubbing me the wrong way right now. Many that comment here are sincere and wonderful people. But I still get the few comments that just appear as if the blogger is commenting because that's what they do for everyone on the list. It doesn't mean much, I didn't move them. That's more than OK! It's not a popularity contest. I don't care that I get 30 comments on HNT whilst someone else got 50. It's the content and the people that matter to me. Maybe in a few weeks I'll get out of my funk and I'll return to the proper ways of HNT. I'm fickle like that sometimes, lol.
So if I matter to you, if you're truly enjoying this post or these photos, then comment away. 95% of the ones who fall into that category are people that I know and like and they'll be getting a visit from me when their HNT post goes up because they're in my reader. If you look at it and think "meh, 'nother pair of big tits" then move along to the next girl ;) If you don't know me from the hole in the wall, but are moved, then comment and introduce yourself! Even though I already have such a huge amount of blogs in my reader that I lose track trying to count the list….I am a glutton for more :)
Without further ado, HNT:
I am on top in these photos – there are two views here. His and um….the guy on the ceiling? (no silly, just me. I was told this is a "myspace angle"?? wtf? No clue what that is, I just liked the different angle).  And yes, those *are* his hands groping my tits. I am literally on top in these photos but in the kink sense of the word "top", it is currently the direction I've been headed lately. It is a direction I wish to explore more, especially as I slowly read through Rachel Kramer Bussel's "She's On Top" (muy caliente). That's not to say that I don't also want to explore the submissive role with a certain someone, I do. But I'm getting back my taste for topping.
(click to enlarge, if you like – no click-thru's this week just full views of the thumbnails)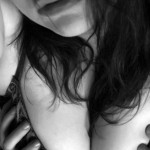 And when she walks, she walks with passion
When she talks, she talks like she can handle it
When she asks for something, boy, she means it
Even if you never ever seen it