Posted by Lilly in Navel-Gazing, Tits for Troops | 12 Comments
Tits for Troops Halloween Style
I've got more halloween-themed pics from the series, but the first went to TfT. After all, it -was- Vixen's suggestion of sending in Halloween-themed tits that gave me the idea!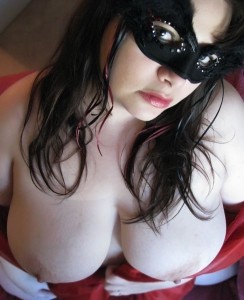 Awfully tiny, huh? You'll have to visit the Troops site to see it full size ;)
On an unrelated note, if you know me at all you'd know that I'm a very giving person. If someone needs help and I can assist, I'm very likely to do it. Above and beyond the "call of duty" even. I suppose it's something my late father told me once that stuck with me, because he was the same way. Even doing things for people who I thought weren't deserving of his help. He said that you should always help out when you can, because you never know when it will be your turn to need help. Karma, perhaps. Reap what you sow? Do unto others? Or maybe because the world just needs to be a better place, with less selfishness.
I don't expect that the person I helped will repay me….someone else might. But I do at least expect a thank you. A few weeks ago a seemingly nice girl contacted me on Okcupid. After reading things in my profile and an email or two she expressed an interest in knowing more about where to buy toys, restraints, and basic general info on related stuff that I won't get into. So I pointed her to my blog, to the blogs of other women who were into what she was into, and I gave her links and information on sex toy sites and my favorite places to get restraints. I put effort into it. And I never heard back from her. Not a peep.
I'm disheartened by it, I've muttered a few disparaging remarks about her, but it won't stop me from being who I am.